Gleaming Towers of Ratnerville
The city of New York has been nuts deep in the sports business. Mayor of Development Bloomberg tried to bring the Jets back to New York, screaming about how this was going to revitalize the city, bring lots and lots of jobs, along with the spectacular Olympics! Because everyone loves tourists, traffic, and javelin throw. I need a moment to myself when I think about Olympic ping pong. And a stadium that looks like a carnival of lights on the Hudson.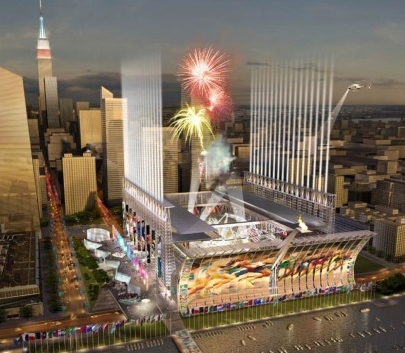 As you know, the newspapers and anyone who does not have a brother in the construction business laughed that idea out of town. I like the Jets. They're my second favorite football team after the Rams. But football is a bad bad idea in the middle of a real city. We don't have the space for it, we use our city after business hours, and football is a suburban, space-eating, tail-gating sport that happens 10 times a year (including preseason). No way can it be cost-effective, with the expense of the stadium and the owners too worried about wrecking the fake grass to rent it out at reasonable prices.
At the same time, Caring Bruce Ratner hollered at Jay-Z and some other cats and bought the Nets. Which is great, because the Nets, even with excellent management, have been unable to find a new home in part because their multiple partner ownership has made a move to Newark or anywhere else a touch more difficult than it should be. And those moves are always difficult.
Caring Bruce immediately had a great idea! He's a land developer so he always has great ideas. And a good land developer has ideas that are great for the city. If, when you think of the city, you think of the Mayor and his homies.
The great idea: bring major league sports back to Brooklyn. Politicians are eager to invoke the Brooklyn Dodgers of Robinson and Campanella, the toughness of Brooklyn, the spirit, the hominess, the ethnic pride, the image of stickball and white street toughs… everyone loves Brooklyn!
As evidenced by the kids from Ohio and Tennessee and Minnesota who come there to try their hand at being writers or at hip hop and electroclash or at mediocre fashion design. Everybody loves Brooklyn, and with the borough's newfound popularity, it was a matter of time before some caring developer offered to alleviate the borough's newfound housing needs…
With high rises.
Now, I like the Nets. I love how basketball arenas can be plopped down into a city, and can be used for high school, summer games, conventions and concerts. I think about Indianapolis' old Market Square Arena, built over a road! You can drive underneath and it doesn't break traffic patterns. That would be perfect for Brooklyn; and the site itself is a transit hub already. Yes, there would be traffic, but there is incentive to take the rails – as people do for Mets games and to the US Open.
But.
Caring Bruce Ratner is using the Nets as leverage to build a ridiculously outsized set of high rises. To do this, he has promised half the units be "affordable housing" – low-to-middle income residents (what's our income threshold, Mr. Ratner?) and the rest are the luxury condos he's itching to build.
The city, of course, loves outsized developments, the kind of places that require the tearing down of very functional, very charming, almost historical buildings. The city loves it so much that they and the state are willing to allow Ratner to use the principles of eminent domain to have the state repossess buildings if they do not sell (note the incentive here for Ratner to give a fair price to owners/ renters is obviously low). Because of all of the vitriol spent on the Jets' development, the lack of the Olympic connection, and the fact that it's not the West Side of Manhattan, but downtown Brooklyn, this development has gotten a little less attention.
Yesterday, the MTA approved his bid. Now there is still an environmental impact review, state reviews, and the Public Authorities Control Board who nixed the Jets deal. There is still hope that this idea may be halted, or better yet, scaled down; there is no reason to build a gleaming set of midtown towers in your suburb, is there? Similarly, there is no need to do this to Brooklyn. The borough is its own city, with a low rise charm.
Moreover, the idea of shoving people out on their ass with no or substandard compensation is garbage. If we respect any right in this nation, it's the right to property, and the right to defend property.
I love my Nets. But this development is ridiculous.
Here are some pretty pictures of models from
the pro-development site
.
And here is
the opposition, digital and sharp with the analysis
. Also,
Develop Don't Destroy Brooklyn's site
- Opposition and economic studies; plus, they sell a t-shirt that looks bangin' on my lady friend.