Sucka Bowl!
This year's annual Sucka Bowl has a couple of very familiar faces—the often lowly and now displaced New Orleans Saints, and the impossibly snakebit New York Jets,
playing Sunday night in New Jersey
. Prediction: all viewers will be asleep in their nachos by halftime.
Mmm,
nachos
.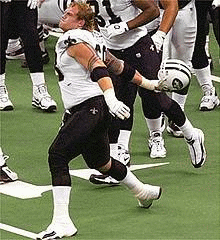 In 2001 the teams played a Sunday night game
that was only rousing in the manner that the Saints yanked defeat from the jaws of victory. Violent-tempered Kyle Turley, with a minute left and his team 6 yards from tying the game, took umbrage to an admittedly violent face-mask twist by Jet defensive back Damien "
Assault Rifle
" Robinson. The official's flag had flown but Turley further expressed his umbrage by twisting off Robinson's helmet, starting a mini-brawl, and tossing the helmet towards midfield.
The officials do not cotton to extraneous violence; they assessed a 15-yard penalty on the fighting and one on the throw, offsetting the original penalty on Robinson. They also ejected violent tempered Turley, who left with his long blond Samson hair flowing in the breeze of the Superdome and his middle finger high in the air so all the kids could see.
Good times.
Tomorrow, the hostilities renew at the Meadowlands in New Jersey, where the displaced Saints had their "home" opener. Hey, they had no home to play in—why not New York, thought Commissioner Tagliabue. The Sucka Bowl features two teams angling for a great pick in this year's NFL draft, which should feature some ready and able quarterbacks, an excellent offensive linemen, a couple of top of the line running backs. All of which the Jets could use. Their team has started applying for AARP magazines and Jets HQ receives offers to explain the new Medicare options to players.
The Saints simply need to be contracted. Owner
Tom Benson
made a little boo boo, lifting his legs on the hopes of the remaining N'Awlins residents by talking about
a possible move from the rebuilding city
. Which Benson has wanted to do for years.
The team's quarterback, Aaron Brooks, is an amazing talent who can't seem to harness that talent into any kind of efficiency. Once a game, he'll make that off balance throw into triple coverage that makes you, an impartial observer, reach for a paper bag, draw eye holes and a frowning face, and put it over your head for the rest of the game. It saves energy. Try it next time. And coach Jim Haslett is a man of tough talk, mediocre defense, bad decisions, and offensive play calling that makes you take off the paper bag and regurgitate those great nachos you made.
Sucka Bowl, start your fumbling.
P.S. If I haven't mentioned it, one of the still-greatest moments in my life—March, in the Bellagio in Las Vegas, walking right by Herman Edwards, coach of the Jets. Regal, strong jawed, fit, looking younger than his years, and with a beautiful woman on his arm. Me, very drunk, called my fellow Jet fan in San Diego a blathered on the phone.